Saturday practice was extra special for the Men's Crew team. With temperatures still hanging around 40° and rain in the forecast, SeattleU spent the morning at the Pocock Rowing Center training on RowPerfect 3s.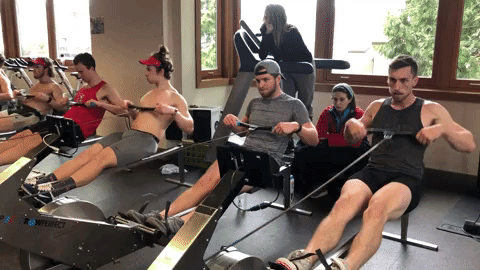 Strength coach Doug Woodward introduced the differences between an RP3 and Concept2 Ergs. Providing feedback on such factors as stroke length, peak power, and force distribution, it was a unique opportunity to receive instant visual feedback on every stroke.
Starting at 16 strokes per minute, rowers had time to get comfortable with the machines before finishing the day with higher rate work. For most oarsmen, it was their first time on an RP3, and the data visualization pointed out areas in the stroke that each rower can work on. Head coach Nichole Martin is planning a return trip to Pocock so rowers can check in on their progress as they continue training into Spring.
Just two weeks away from the Pacific Lutheran University Invitational on March 9th, it was the perfect opportunity for the Redhawks to build technique at race pace.